Double Fold Queen Murphy Wall Bed
Our new addition is here to prove that even the smallest of spaces can fit a queen bed.
Hidden in a sleek cabinet, a double-fold queen-size bed is as comfortable as a traditional bed, but without the bulk.
This awesome bed only requires to be secured to the wall at one point.
A clean and modern cabinet fits in any interior.
Small footprint-big space-saving potential.
Use the top of the cabinet for extra storage or to display collectibles.
The innovative opening mechanism is very smooth and easy to operate.
Slatted mattress base for maximum comfort.
Fits up to 6" thick queen-size foam mattress.
Two retractable legs pop out when the bed is open, and are invisible when it's closed.
Exceptional construction with the highest quality eco-friendly materials.
All materials meet stringent requirements for safety and health standards.
6" Queen size mattress.



MADE IN EUROPE
FREE GIFT - Multimo 6-Inch Memory Foam Queen Mattress
Amazing comfort from body-conforming memory foam
Feel Like you are floating on a cloud
No pressure points; Deeper Sleep
CertiPUR-US Certified/10-year warranty
Product Size: 60" x 80" x 6"
1" Memory Foam top+2" Super soft foam + 3" Supportive Layer below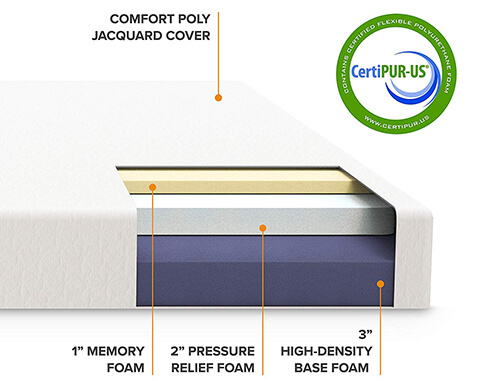 Memory foam provides a great sleeping surface. In normal temperatures, it is somewhat firm, but when you lay down, it starts reacting to the temperature of your body and begins to mold itself to your shape. Then, weight is evenly distributed along the surface, relieving pressure points, and helping you to sleep more without tossing and turning.
MATTRESS FACTS
: 6" Deep Dual Layers: 1" Memory Foam top+2" Super soft foam + 3" Supportive Layer below.
Rich Poly-Jacquard fabric cover.
Product Details
Product Dimensions

Bed Closed: 48.1" H x 64.5" W x 20.5" D
Bed Open: 48.1" H x 64.5" W x 94.5" D
Bed weight limit 400lb.



Materials

CARB PHASE II / TSCA TITLE VI Certified high density particle board faced with melamine. 18 mm and 30 mm thick board is used.

Assembly required
Assembly instructions

*The assembly video is for visual reference only and may show a different model version of the bed listed.


Bed orientation
Vertical
Heavy use
The wall bed is built to be used daily in hotels, dorms, rental properties etc.
Usage type
Heavy
Reasssembly clause
*This bed can be re-assembled multiple times if needed due to high quality materials and hardware